Nourish for Caregivers Ministry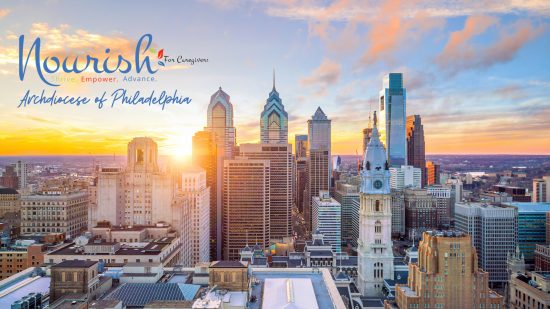 Caring for the Caregiver: Virtually every one of us will care for a loved one at some point in our life. Though rewarding, it is not always easy. The Nourish for Caregivers ministry understands that family caregivers need somewhere to turn to for information, support in their faith and personal connection during the caregiver journey. Each Nourish gathering provides practical approaches, tools and resources to help navigate these times with a Christ-centered view. 
Nourish for Caregivers Virtual Offerings
Nourish For Caregivers offers various forms of virtual support if you can't get to a meeting in person. These include a weekly "House Call" and a monthly online support group that is hosted nationally.  A number of our own local groups also offer an option to join their meetings via Zoom.  Contact the group leader to inquire. 
For details about Nourish for Caregivers online support group, click here.
For details about the weekly House Calls, click here.
Find a Nourish for Caregivers Meeting
Click here to find a Nourish meeting near you
Host Parish
Meeting Dates and Times
Parish Contact
More Info

CHESTER COUNTY

 
 
 
St. Ann, Phoenixville
Email parish contact for details.
Chris Granese (Email)
Parish website
St. Elizabeth, Chester Springs
Email parish contacts for details.
Regan Sarmento (Email)
Diane Thompson
(Email)
Parish website

DELAWARE COUNTY

 
 
 
Nativity BVM, Media
Email parish contact for details.
Donna Tustin (Email)
Parish website

MONTGOMERY COUNTY

 
 
 
Epiphany of Our Lord, Plymouth Meeting
Jointly offered at St. Rose of Lima (see below)
Mary Sheehan (Email)
Parish website
St. Rose of Lima, North Wales
Email parish contact for details.
Amy Juarez (Email)
Parish website

PHILADELPHIA

 
 
 
St. John the Baptist, Manayunk
Email parish contact for details.
Jennifer Rose (Email)
Parish website
More information:
Ongoing monthly support group, walk-ins welcome,
no cost/materials to purchase, bring a friend.
Who should come to a Nourish gathering?
Nourish for Caregivers is for anyone juggling the challenges of everyday life, health, career and caring for a loved one, whether it be a family member with disabilities, an ill or aging parent, spouse, friend or grandparent, in town or at a distance. Nourish provides caregivers a faith perspective, as well as practical and emotional supports, useful tools, and shared experiences.
What topics will be covered at a Nourish gathering?
Topics change and vary by month. Meeting topics include: the spirituality of asking for and receiving help, avoiding common pitfalls, communication dynamics, keeping loved ones safe, caring for loved one and yourself, speaking up and more.
How to Start a Nourish for Caregivers Ministry
Nourish for Caregivers is a Christ-centered Catholic ministry that supports the practical, emotional & spiritual needs of family caregivers. Nourish provides you with a well-structured, easy-to-implement program that can help you launch a parish-based, lay-led ministry to facilitate an effective and ongoing care for the caregivers in your community. Archdiocese of Philadelphia parishes receive a discounted rate when launching a new Nourish group.