Men's Faith Formation
"Christ the new Adam, in the very revelation of the mystery of the Father and his love, fully reveals man to himself and brings to light his most high calling." –Gaudium et Spes 22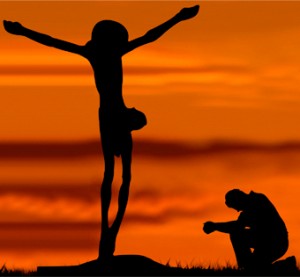 In today's world, masculinity is often portrayed untruthfully. On television, men are the goofy, unreliable husbands who need their wives to do everything for them or they are portrayed as having "only one thing on their minds", sex. But in the eyes of the Church, men are created in the image and likeness of God. They have unique and irreplaceable gifts to bring to the family, relationships, society and the Church. The fact that the Son of God became incarnate as a man reveals something about the high dignity of masculinity. It reveals that a man has a special vocation to reveal the very love of God the Father for the world. The Church, therefore, has the duty to support men in their life of faith and in their striving to enact in their own lives Christ's sacrificial love. Below are some resources to help men grow closer to Christ and the Church and to support one another in a life of Christian discipleship.
Fraternus
Fraternus chapters work in parishes to recruit and train Catholic men to become "True Mentors" for young boys, mentors who provide for the boys rites of passage into true Catholic manhood, founded on virtue. Fraternus mentors are rooted in prayer and challenged to go and earn from the boys the right to be heard through building genuine friendships. The goal of a Fraternus chapter is to create a brotherhood of disciples centered in Jesus Christ at the Heart of the Church.
Exodus 90
Exodus 90 is a spiritual exercise for the renewal of the Church. It's a challenging 90-day period of prayer and asceticism, supported by a fraternity of like-minded men to help men find greater freedom, peace and joy in serving God, the Church and those around them.
That Man is You!
That Man is You! is an interactive, multimedia men's program focused upon the development of authentic male leadership. Over the course of three foundational years, and four optional formation years, That Man is You!honestly addresses the pressures and temptations that men face in our modern culture, especially with regard to their relationships to God, to their spouse, and to their children. The program content harmonizes current social and medical science with the teachings of the Church and the wisdom of the Saints to develop the vision of man fully alive.
LEAD: Fathers of St. Joseph
LEAD: The Four Marks of Fatherly Greatness is designed to help men mine the riches of manhood, which culminates in spiritual fatherhood. LEAD guides a man from identity to destiny, using St. Joseph's four pillars. These have helped fathers of diverse ages, cultures, and walks of life, discover who they really are and God's great vision, mission, and plan for their lives.
L—Listen to Discern Your Mission
E—Embrace Your Essence
A—Assume Your Authority
D—Discover the Disciple
St. Joseph's Farm
St Joseph's Farm is a teaching farm in Western NC that focuses on traditional husbandry, skills, and culture to help men regain sanity and reconnect with reality in a world of artificiality. From homesteading to classical literature to survival skills, programs at SJF are not your average "retreats". Father-son retreats and retreats for groups of men are available.
Into the Breach
Inspired by the Apostolic Exhortation for Catholic men written by Bishop Olmsted of Phoenix, the Knights of Columbus produced a video series which seeks to answer the question of what it means to be a man and how to live as a man in today's world. Through a series of 12 videos, the Knights of Columbus are seeking to offer Catholic men tools and opportunities to grow in their faith, pursue Christ-like virtue, and become better Catholics.
The King's Men
Under Christ the King's universal call to serve, we as men, pledge to unite and build up other men in the mold of leader, protector, and provider through education, formation and action.
Knights of Columbus
The Knights was formed to render financial aid to members and their families. Mutual aid and assistance are offered to sick, disabled and needy members and their families. Social and intellectual fellowship is promoted among members and their families through educational, charitable, religious, social welfare, war relief and public relief works.
Knights of St. Peter Claver
History shows that trials and tribulations test the mettle and bring out the best in those servants of God whose lives are grounded in humanity, patience and complete submission to the will of God. Peter Claver is an excellent example of this. For over a century the Knights of Peter Claver family has sought to emulate the charitable acts and corporal works of mercy that were the embodiment of our patron, St. Peter Claver.
Man-Up Philly:  Men's Spirituality Conference
As Catholic men of the Archdiocese of Philadelphia, we strive to make Jesus Christ present in our lives.  Called together, we seek God's grace to strengthen one another and grow in commitment to our Catholic faith.  Equipped as witnesses of the Gospel, we serve our families and the Church.