The Easiest Way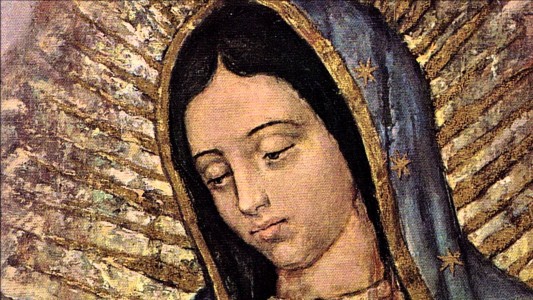 "There is a vast difference between carving a statue by blows of hammer and chisel and making a statue by using a mold. Sculptors and statue-makers work hard and need plenty of time to make statues by the first method. But the second method does not involve much work and takes very little time…Mary is a mold capable of forming people into the image of the God-man. Anyone who is cast into this divine mold is quickly shaped and molded into Jesus and Jesus into him. At little cost and in a short time he will become Christ-like since he is cast into the very same mold that fashioned a God-man." ~St. Louis de Montfort, True Devotion to Mary, 219
Real the full passage here
Our Lady and the New Evangelization
The Blessed Virgin Mary is the secret to all great evangelizing. While on our own we might participate beautifully in the Lord's work of converting the hearts of some people, the Blessed Virgin has been known to convert entire continents. The story of Our Lady of Guadalupe is a wonderful example of how quickly and easily she brings people to her Son.
Rather than rely on our own efforts to make disciples of Jesus Christ, let us turn ourselves, our ministry, and our parish over to Mary, asking her to do what she does best – quickly and efficaciously convert hearts and bring them into deep intimacy with Jesus.
Here are a few ways to surrender ourselves and our evangelizing mission to Our Lady:
Pray the Rosary
Pray the Rosary for your own continued conversion and holiness. In addition, pray for those whose hearts are far away from God, mentioning them by name in your prayer. Consider praying a Rosary for Evangelization.
Consecration to the Immaculate Heart of Mary
Consecrate yourself, your ministry, and your parish to the Immaculate Heart! This act of surrender will give Our Lady full permission to enter your life and your ministry and infuse it with her own unimaginable fruitfulness. Consider using one of these resources to make an act of total consecration to Jesus through Mary:
Enthronement of Our Lady
An act of enthronement gives Our Lady special authority over your home, workspace, or other location where her image has been enthroned and honored. Those who entrust themselves in this way can expect her to extend her reign anywhere that she has been given permission to do so.
Bring Our Lady into Your Evangelizing
The Blessed Virgin Mary is an integral part of the Good News of Jesus Christ. Christ has given her to us as our Mother, our Model, and our Advocate. Let us seek ways to introduce people to her as early on in the process as possible so that she can smooth and make sweeter a person's path of discipleship.