Courtyard of the Gentiles
The "Courtyard of the Gentiles" in the context of evangelization is a metaphor offered to us by Pope Benedict XVI to shed light upon the Church's mission to those who do not believe in God or who find the question of God irrelevant to life. The image was first put forward during the Holy Father's visit to the Czech Republic and was later taken up in the Lineamenta, the document preparing for the October 2012 Synod on the New Evangelization. The Holy Father stated: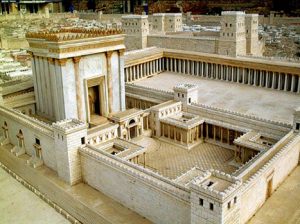 "Here I think naturally of the words which Jesus quoted from the Prophet Isaiah, namely that the Temple must be a house of prayer for all the nations (cf. Is 56: 7; Mk 11: 17). Jesus was thinking of the so-called 'Courtyard of the Gentiles' which he cleared of extraneous affairs so that it could be a free space for the Gentiles who wished to pray there to the one God, even if they could not take part in the mystery for whose service the inner part of the Temple was reserved… I think that today, too, the Church should open a sort of "Courtyard of the Gentiles" in which people might in some way latch on to God, without knowing him and before gaining access to his mystery, at whose service the inner life of the Church stands. Today, in addition to interreligious dialogue, there should be a dialogue with those to whom religion is something foreign, to whom God is unknown and who nevertheless do not want to be left merely Godless, but rather to draw near to him, albeit as the Unknown." -Lineamenta 5
A few key points can be drawn out from the Pope's words to help us in discerning the authentic meaning of this metaphor and how it should govern and shape our evangelization among those who profess no faith in God. Please click on the reflection points below to read more and find questions for reflection. We want to ask ourselves what this metaphor means for the Catholic Church and what a Catholic "Courtyard of the Gentiles" could look like. Please use the contact information below to share your thoughts and ideas with us!